Carnation Silversocks contain pure silver, a naturally occurring element. The textile fibres incorporated in the sock have been completely and universally coated with pure silver. This construction means the silver is on the outside of the fibre allowing its many natural benefits and properties to perform at their optimum.
Removes the causes of foot odour and destroys the smelly feet producing bacteria.
Carnation Silversocks are high quality finished textile socks for everyday wear, just like ordinary socks. The X-Static Silver within the sock is permanent and irreversibly bonded, becoming a physical part of the fibre. It will not wash off, wear off or diminish in effectiveness over time and will last the lifetime of the product.
Thermal Conductivity
Keeps feet warmer in Winter, cooler in Summer
Anti-Odour & Antimicrobial
Eliminates odour by neutralising its principal causes, bacteria. No more smells
Moisture Transfer
Hydrophobic yarn system allows a greater amount of moisture to be drawn through the fibres. Ideal for sweaty feet
Anti-Static
Reduces static electricity. Giving you greater comfort
Thermal Conductivity
Keeps your feet cooler in Summer and warmer in Winter
The silver within the socks has the best possible thermodynamic properties, regulating the temperature within the shoe.
Carnation Silversocks make it possible to use the existing energy generated by the feet and the environment to actively regulate temperature through heat transfer.
Maintaining a regulated temperature can help reduce the risk of blistering caused by excessive friction and heat build up. Silversocks will keep feet cooler in the summer and warmer in the winter.
Moisture Transfer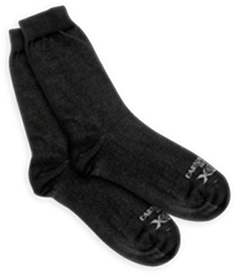 No more sweaty feet!
Carnation Silversocks' hydrophobic yarn system allows a greater amount of moisture to be drawn through the fibres for subsequent evaporation. As a result moisture is transferred away from the body faster, creating a more comfortable environment for your feet. Designed for anyone that suffers from excessively sweaty feet.
Antimicrobial & Anti-Odour
No more smelly feet!
Silver is recognised in the medical community as a very effective antimicrobial agent, proven to kill over 400 different types of bacteria. The X-Static Silver fibres use pure silver to inhibit the growth of odour-causing bacteria and fungi in the socks.
Bacteria are only one source of foot odour. Ammonia and denatured proteins are also significant causes of odour in hosiery products.
Carnation Silversocks neutralise ammonia and denatured proteins because both bind readily to silver resulting in instant odour reduction.
X-Static Silver eliminates 99.9% of bacteria in less than one hour of exposure.
Anti-Static
Carnation Silversocks reduce static electricity and electrostatic discharge. Silver is the most electrically conductive element. Electrical charges normally created by two non-conductive materials rubbing together are instantly dissipated by X-Static Silver so socks stay static free.
Natural

X-Static is made with pure silver and contains no chemicals. It is safe for people and for the environment.
The Original Silversock
Machine washable